The housing for the freed slaves was a problem from the very beginning. At first
the Union army tried to establish military-like camps for the blacks at places on Bay Point and Otter Island. But these were little more than "holding areas" and were later in the Civil War called, "Freedmen's Home Colonies," providing "temporary shelter and care." A similar approach was first used on Hilton Head, where "commodious barracks" were built. This approach, however, was seen to be a failure by October 1862, when they were described as a "sty." Perhaps more importantly, this approach did nothing to help the escaped slaves learn about their new freedom.

           
One of the first accounts of the decision to change the way the Union Army dealt with the blacks was reported by the local newspaper, New South, on October 4, 1862:
Some wholesome changes are contemplated by the new regime [General
Ormsby Mitchel, who assumed command on September 17, 1862),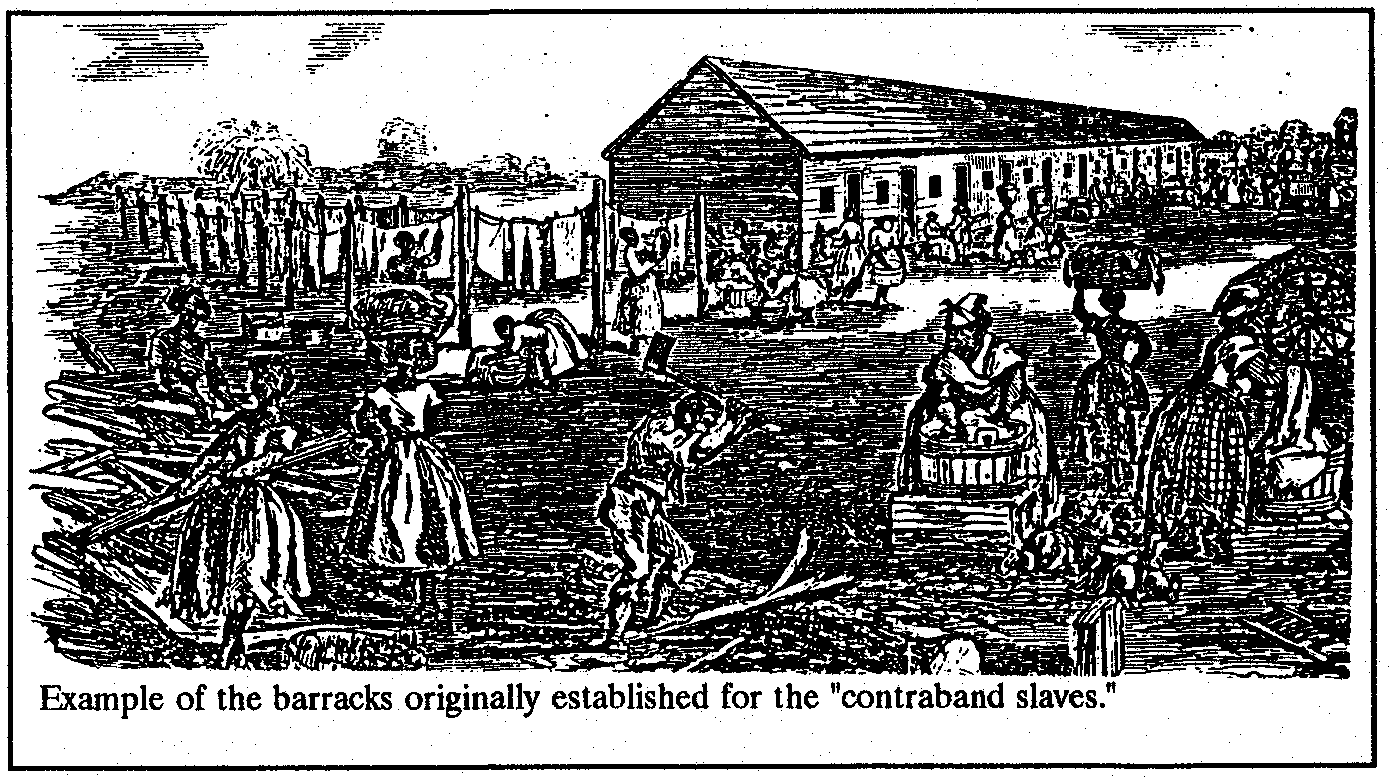 not the least of which is the removal of the nergo quarters beyond the
stockade ... where they can at once have more comfort and freedom
for improvement. ... Accordingly, a spot has been selected near the
Drayton Plantation for a Negro village. They are able to build their own
houses, and will probably be encouraged to establish their own police..
.. A teacher, Ashbell Landon, has been appointed.
Some wholesome changes are contemplated by the new regime [General
Ormsby Mitchel, who assumed command on September 17, 1862), By March of 1863 the town was built and named in honor of General Mitchel. The village was divided into districts for the election of councilmen, charged with establishing police and sanitary regulations. The government of the village consisted of a supervisor and treasurer appointed by the military, as well as the freely elected council, a marshal, and a recorder. This government was to:
establish schools for the education of children and other persons. To
prevent and punish vagrancy, idleness and crime. To punish licentiousness,
drunkenness, offenses against public decency and good order, and